When you lose someone you take time to reflect
On the good times and the bad
But there should be no regret
Life is about choice and that's what makes us who we are
Could things have been done differently?
Of course, but that can only be taken so far
Our souls meet here with a pre-destined plan
The lessons are not easy 
But we do the best that we can
To accept those things that we cannot control
With joy and enthusiasm 
Is a difficult goal
It's our souls desire to complete the plan
No matter our differences 
Even those we may never understand
So love yourself no matter the cost
Your path hasn't ended 
Because this person has crossed
I will miss you Mom
I accept our experiences as meant to be
In my heart I thank you
For your influence on me
With Love - Your Son
Judy Steakley 
1945 - 2013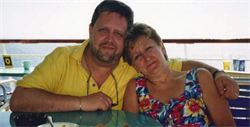 Besides communicating with those that have crossed - I am a Reiki Master/Practitioner. Reiki is an old Japanese form of hands on healing. I like to call it "ancient healing in modern times." So what is Reiki? I have added a description here. Consider unwrapping this spiritual gift for yourself or for a friend or family member. It's a beautiful experience.
WHAT IS REIKI?  The knowledge that an unseen energy flows through all living things and is connected directly to the quality of health has been part of the wisdom of many cultures since ancient times. The existence of this "life force energy" has been verified by recent scientific experiments, and medical doctors are considering the role it plays in the functioning of the immune system and the healing process. 
Reiki is a technique for stress reduction and relaxation that allows everyone to tap into an unlimited supply of "life force energy" to improve health and enhance the quality of life. 
A treatment feels like a wonderful glowing radiance that flows through you and surrounds you. Reiki treats the whole person including body, emotions, mind and spirit and creates many beneficial effects including relaxation and feelings of peace, security, and well-being. Many have reported miraculous results. Reiki is a simple, natural, and safe method of spiritual healing and self-improvement that everyone can use. 

HOW DOES REIKI WORK? We are alive because life force is flowing through us. Life force flows within the physical body though pathways called chakras, meridians and nadis. It also flows around us in a field of energy called the aura. Life force nourishes the organs and cells of the body, supporting them in their vital functions. When this flow of life force is disrupted, it causes diminished function in one or more of the organs and tissues of the physical body. 

The life force is responsive to thoughts and feelings. It becomes disrupted when we accept, either consciously or unconsciously, negative thoughts or feelings about ourselves. These negative thoughts and feelings attach themselves to the energy field and cause a disruption in the flow of life force. This diminishes the vital function of the organs and cells of the physical body. 

Reiki heals by flowing through the affected parts of the energy field and charging them with positive energy. It raises the vibratory level of the energy field in and around the physical body where the negative thoughts and feelings are attached. This causes the negative energy to break apart and fall away. In so doing, Reiki clears, straightens and heals the energy pathways, thus allowing the life force to flow in a healthy and natural way.
WHERE DOES REIKI COME FROM? Reiki energy is a subtle energy. It is different than electricity or chemical energy or other kinds of physical energy. Reiki energy comes from the Higher Power, which exists on a higher dimension than the physical world we are familiar with. When viewed clairvoyantly, Reiki energy appears to come down from above and to enter the top of the practitioners head after which if flows through the body and out the hands.
 
It appears to flow this way because of our perspective. However, the true source of Reiki energy is within ourselves. This does not mean that we use our personal energy when we do Reiki, but that the energy is coming from a transindental part of ourselves that is connected to an infinite supply of healing energy. 

HOW IS A REIKI TREATMENT GIVEN? In standard treatment Reiki energy flows from the practitioners hands into the client. The client is usually lying on a massage table but treatments can also be given while the client is seated or even standing. The client remains fully clothed.
WHAT DOES A REIKI TREATMENT FEEL LIKE? What one experiences during a Reiki treatment varies somewhat from person to person. However, feelings of deep relaxation are usually felt by all. In addition, many feel a wonderful glowing radiance that flows through and surrounds them. As the Reiki energy encourages one to let go of all tension, anxiety, fear or other negative feelings a state of peace and well-being is experienced. Some drift off to sleep or report floating outside their bodies or have visions and other mystical experiences. At the end of the treatment, one feels refreshed with a more positive, balanced outlook.
The practitioner places her/his hands on or near the client's body in a series of hand positions. These include positions around the head and shoulders, the stomach, and feet. Other, more specific positions may be used based on the clients needs. 
Each position is held for three to ten minutes depending on how much Reiki the client needs at each position. The whole treatment usually lasts between 45 and 90 minutes. 
source: reiki.org
Give the Gift of Reiki. 
Reiki is the perfect gift to give that special someone who never takes time for themselves and is always on the go and doing for others. Give them the opportunity to unwind, relax and get re-focused.
(Gift Certificates are available upon request)
Experience the healing power of Reiki. 
Welcome to the Journey within!