Imagine for a moment doing what you love doing. That one thing that you are immensely passionate about and been doing it for years. You're pretty good at it. You're confident in yourself. Then one day you become aware of an expert in your craft, either by reading a book, hearing them on CD, tape, radio or even seeing them on television. This someone who does what you do and has been doing it for many years as well, has perfected the art of living your "passion" and in doing so gained world-wide recognition in the process. How does this make you feel? Excited? Validated? Hopeful that there may be a chance for you yet to live your passion and be as successful as others who are living their passion? What if you had the opportunity to meet that certain someone and actually work along side them? To hear them teach, to learn from them and even be critiqued by them? How do you feel now? Nervous? Intimidated? Over -whelmed? 
I am excited to tell you that I had the honor and pleasure of living that very opportunity for myself  earlier this week. I am just returning from Richmond, B.C. where I attended a 3 day intermediate/advanced mediumship workshop with two of the most respected and world renowned mediums in the field of mediumship and spiritual development. Lisa Williams and Tony Stockwell, both from the UK, are two of the top 5 teachers in the world on mediumship as well as two of the nicest, most down to earth, amazing individuals you could ever meet. I understand that Lisa and Tony have only been working "together" for a short time. You wouldn't know it. They may have different styles and techniques but it works! It's like they have been working together for years.
I attended the workshop with some 30 plus other mediums, psychics, numerologists and tarot readers from the USA, Canada and Europe. I am confident that the group would agree, that with Lisa and Tony's words of wisdom, teaching with integrity and encouragement and overall love and passion for what we do, each and every one of us were blessed beyond anyone's expectations. 
Lisa Williams and Tony Stockwell (IMO) truly are and "Inspiration" indeed!
Oh and yes I "was" nervous, somewhat intimidated and overwhelmed at first. I left confident in my abilities, ready to put what I learned into practice and finding and developing a style of mediumship to call my own. So yes, there is hope for me to "live" my passion. It is now up to me to make it happen! 
Namaste~
Rus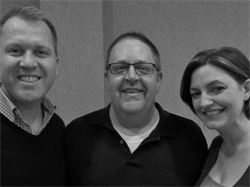 Categories: None